Virtual Event
Let's Talk About SIB | Session 05: Things We Take for Granted: Feeding and Toileting
January 10, 2022 @ 6:30 pm

-

8:00 pm

PST

Virtual Event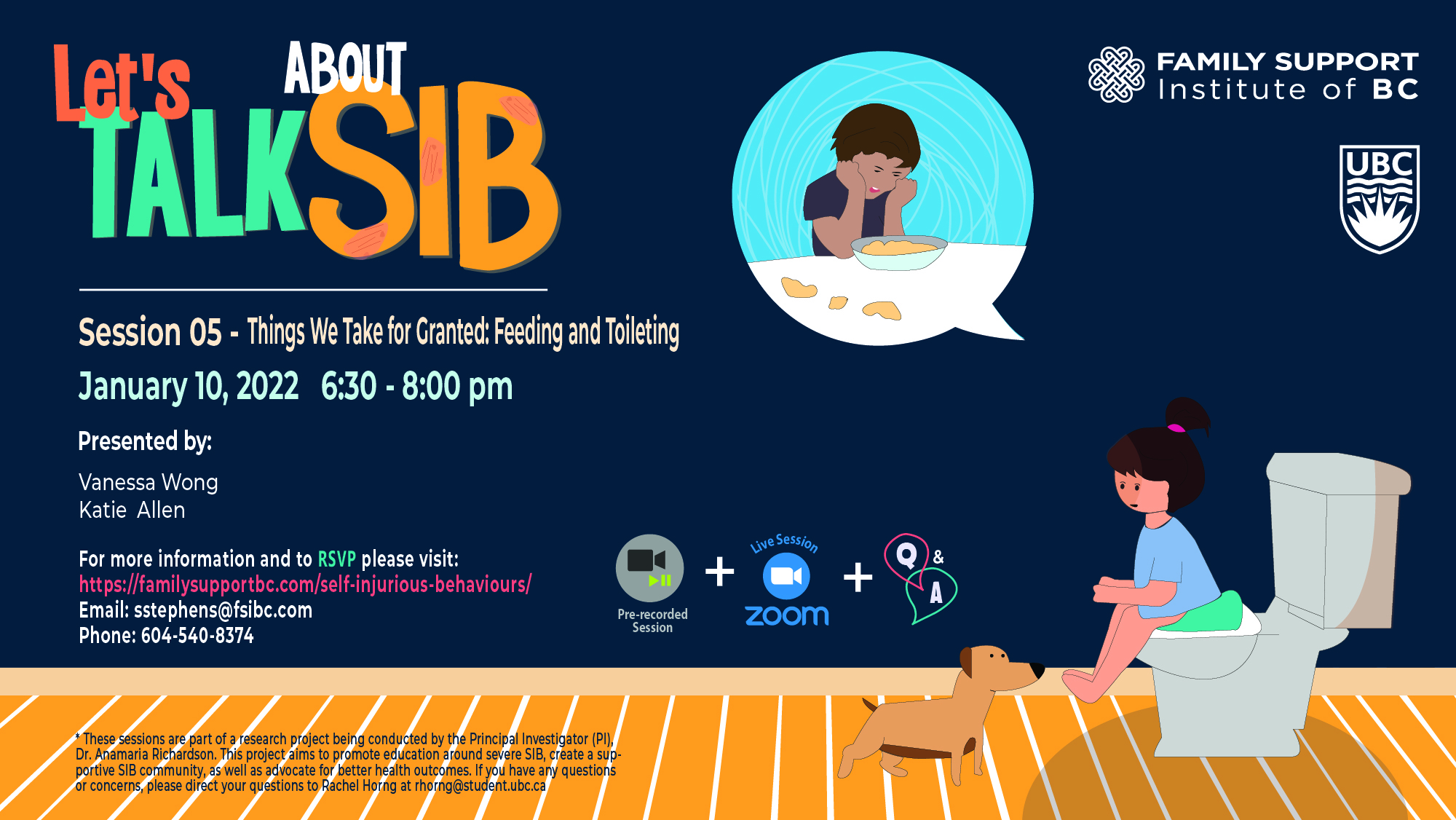 SESSION INFO: « Back to all events
About this Session:
Toilet training and feeding difficulties are a common issue in pediatric populations. In this session, we will dive into the importance, barriers and strategies of overcoming these difficulties. We will discuss an approach to guide parents' plan and choice of techniques, depending on the individual child's learning style and the context.
What is Self-Injurious Behaviour (SIB)?
Self-Injurious behaviour can be defined as: self-directed injury that is non-suicidal in nature and causes physical trauma. These isolating behaviours may affect children with intellectual impairment, autism or other forms of neurodiversity. SIB is a multifaceted behaviour that is difficult to understand and treat as the diagnosis varies across individuals. Currently, proper evidence-based care does not exist, so it can be extremely challenging to care for children with severe SIB.
Are you a parent/primary caregiver of a person with Self Injurious Behaviours? Are you passionate about taking your learning to the next level? As a parent/primary caregiver do you want to learn more on how to support yourself and your child? We are bringing to you a unique 6-part series to learn and explore ways to support families and their children. These six sessions are meant to promote education around severe SIB, to create a supportive SIB community, as well as to advocate for better health outcomes.
You Can Participate in Any of These Ways:
Pre-watch any of the 6 series pre-recorded workshops
Pre-watch any of the 6 series pre-recorded workshops then join on event night and participate in our live and interactive Q & A
Join us on event night to watch the pre-recorded workshops together followed by our live and interactive Q & A
Join the monthly SIB Family Hangout hosted by FSI the last Monday of every month
CLICK HERE FOR MORE INFORMATION ON ALL OF THE SESSIONS AND TO VIEW PRE-RECORDED WORKSHOPS
Related Events