Virtual Event
Natasha's Glory Bowl Show
June 17 2021 @ 1:00 pm

-

3:30 pm

PDT

Virtual Event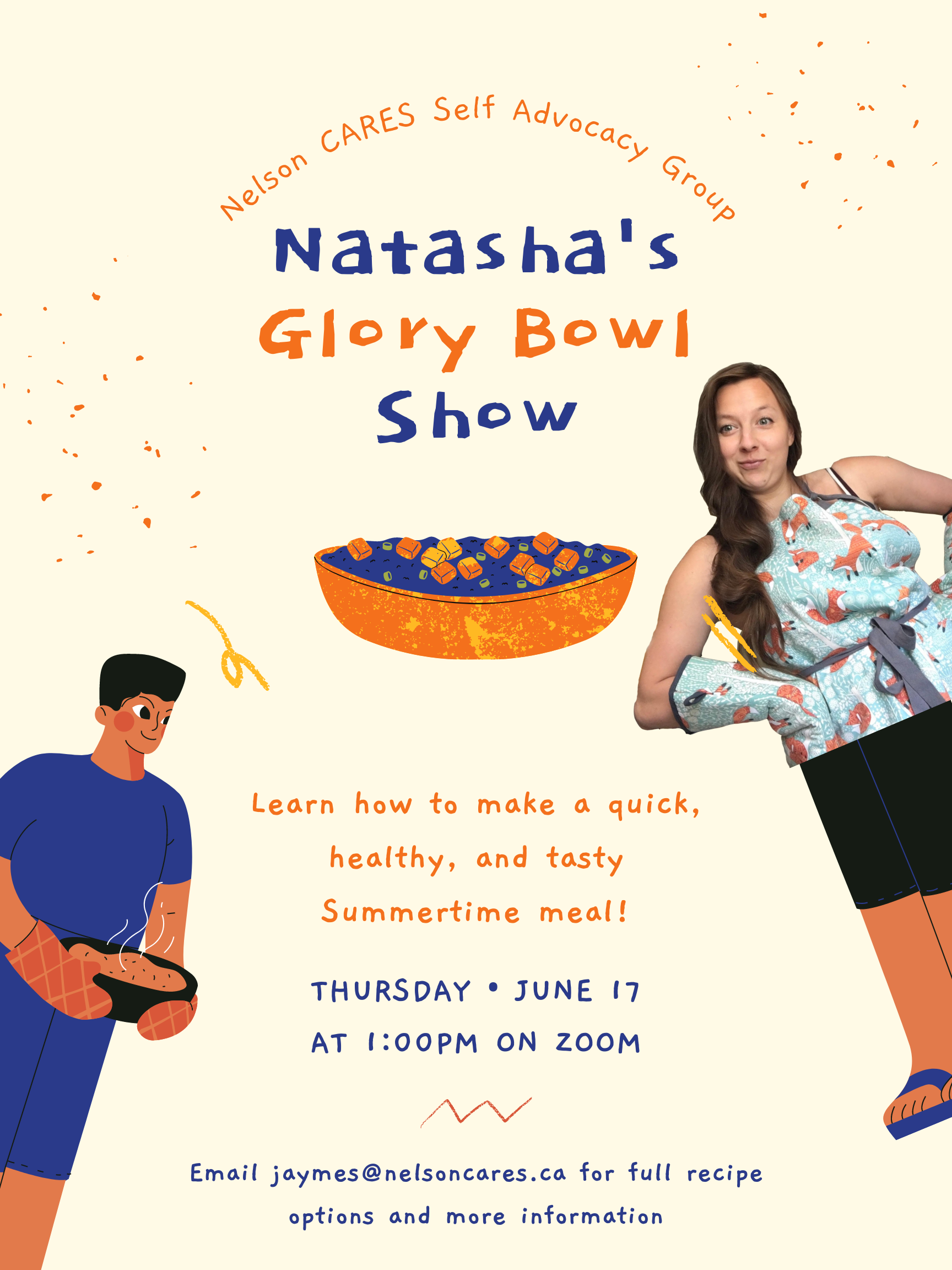 SESSION INFO: « Back to all events
Here are some examples of ingredients you can use for the Glory Bowl. Pick and choose whatever your desire! If you need help with prepping or need clarification before our group meeting, let your Support Worker or Jaymes know, and they will help figure out a solution for you.
Filler Base Examples: Brown Rice, Jasmine Rice, Quinoa (Red, White, Yellow), Mixed greens, Spinach, Glass Noodles, Kale.
Topping Examples: Cucumbers, Edamame Beans, Sugar Snap Peas, Baby Spinach, Mixed Greens, Grated beats, Shredded or Julienned Carrots, Avocados Wedges, Julienned Red or Yellow Bell Pepper, Roasted Cauliflower, Tofu, Mango, Apple
Meat Examples: Chicken, Shrimp
Extra touches: Green Sprouts, Micro Greens, Alpha Sprouts, Sesame Seeds
Glory Bowl Dressing Recipe
1 cup olive oil
1/3 cup apple cider vinegar
1/3 cup tamari or soy sauce
1/2 cup nutritional yeast flakes
2 tbsp tahini
2 cloves garlic
Supplies you will need: Blender, A Good Chef Knife (Big Knife), Pairing Knife (Small Knife), Medium or Large Cutting Board, Grater.
If cooking rice or quinoa, you will need a rice cooker. I use a Red Mini Dutch Oven.
Jasmine rice cooks about 20-30 min but Brown rice will take about 45-60 min. At least the brown rice I have. Read package for direction on how to cook the rice you have. If Glass Noodles, you will need to Boil water, put glass noodles in boiling water. They cook really fast, so WATCH THEM! If using Meat, you will need a Cast Iron or a frying Pan.
I will be cooking Chicken, if you want to cook the chicken like how I do, the ingredients & utensils are:
Medium & Large zip lock Bags, flipper, or tongs
Corn Starch
Salt & Pepper
Butter
Before I begin the chicken, I brine the chicken for 30 min or longer. Brining is leaving chicken in salt water. This Keeps the moisture in the chicken. That way all the juices do not cook out and leaving the chicken dry.
Contact for more information
Related Events