Virtual Event
Let's Talk About SIB | Session 04: A Mixed Bag: Psychiatric Comorbidities
December 13 2021 @ 6:30 pm

-

8:00 pm

PST

Virtual Event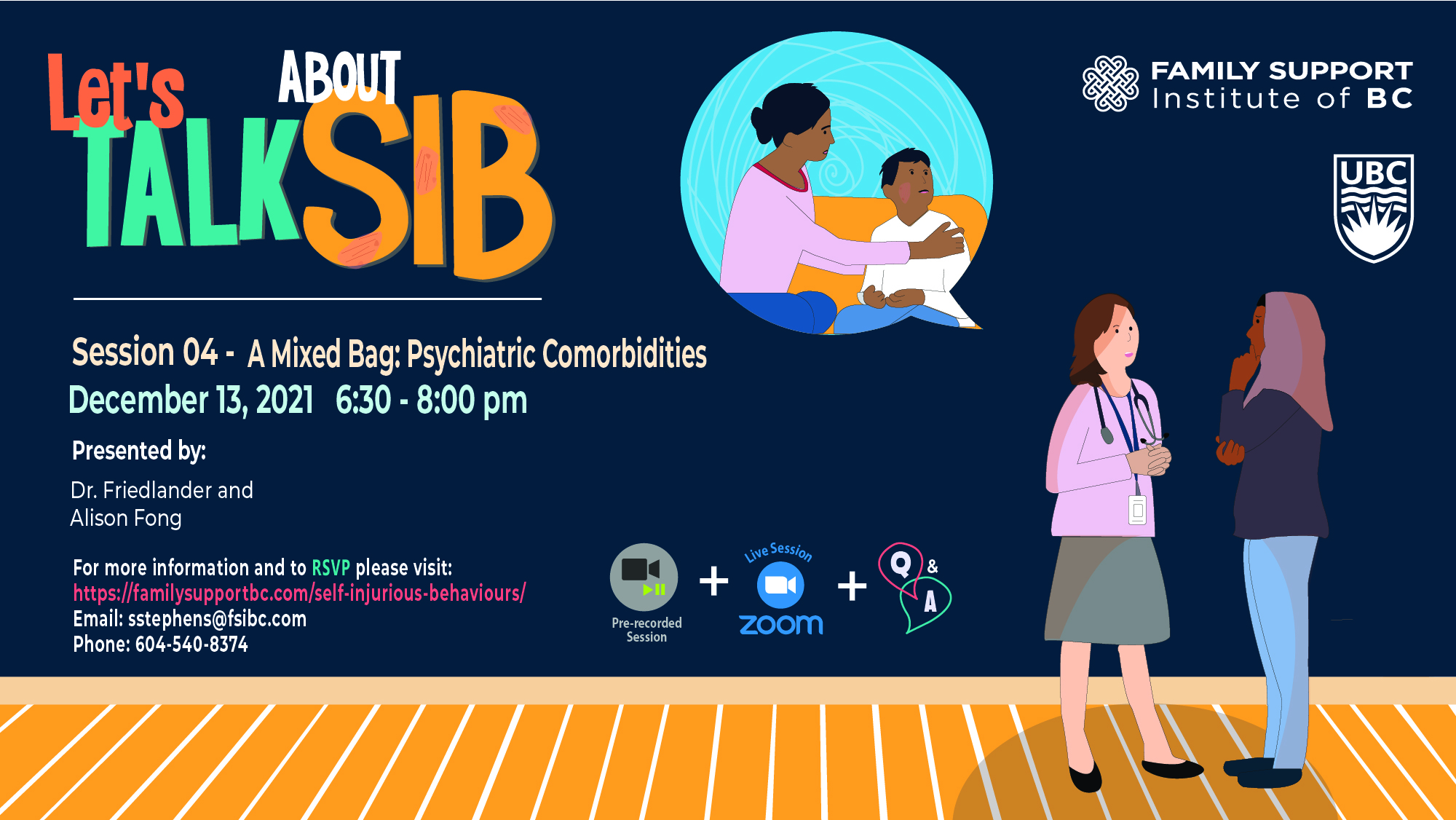 SESSION INFO: « Back to all events
About this Session:
78% of children with autism have at least one mental health condition. Join us for a session in learning about common psychiatric comorbidities and their methods of treatment. We will discuss common psychotherapies and pharmacologic treatments for ADHD, anxiety disorders, OCD-related disorders, mood disorders, as well as catatonia.
What is Self-Injurious Behaviour (SIB)?
Self-Injurious behaviour can be defined as: self-directed injury that is non-suicidal in nature and causes physical trauma. These isolating behaviours may affect children with intellectual impairment, autism or other forms of neurodiversity. SIB is a multifaceted behaviour that is difficult to understand and treat as the diagnosis varies across individuals. Currently, proper evidence-based care does not exist, so it can be extremely challenging to care for children with severe SIB.
Are you a parent/primary caregiver of a person with Self Injurious Behaviours? Are you passionate about taking your learning to the next level? As a parent/primary caregiver do you want to learn more on how to support yourself and your child? We are bringing to you a unique 6-part series to learn and explore ways to support families and their children. These six sessions are meant to promote education around severe SIB, to create a supportive SIB community, as well as to advocate for better health outcomes.
You Can Participate in Any of These Ways:
Pre-watch any of the 6 series pre-recorded workshops
Pre-watch any of the 6 series pre-recorded workshops then join on event night and participate in our live and interactive Q & A
Join us on event night to watch the pre-recorded workshops together followed by our live and interactive Q & A
Join the monthly SIB Family Hangout hosted by FSI the last Monday of every month
CLICK HERE FOR MORE INFORMATION ON ALL OF THE SESSIONS AND TO VIEW PRE-RECORDED WORKSHOPS
Related Events